SUBCISION & FILLING - ACNE SCAR TREATMENT
Subcision is a surgical procedure that is performed in local anesthesia.
The treatment is effective for lifting tethered rolling scars, which may form after deep acne.
Rolling scars are often tied or anchored in the subcutaneous tissue with threads of scar tissue like branches of a tree. If these threads are not cut (subcised), one will never be able to achieve a satisfactory result with other treatment modalities like lasers, RF, micro-needling or peels.
Dr. Emil Henningsen, Board Certified Dermatologist introduced this treatment in Denmark in 2014.
To date, Emil Henningsen har subcised more than 1,000 patients with this tethered acne scars. According to acne.org and other independent sources, he is regarded as one of the most skilled specialists in this treatment.
Read the client guide here >>
Learn about Subcision & Filling acne scar treatment
How is subcision performed?
We start by analyzing your skin to map the scars that are suitable for subcision.
The skin is cleaned, disinfected and numbed with local anesthesia using a thin needle. Anesthesia is uncomfortable, but subcision is usually a painless procedure.
Most tethered scars are released with Cannula, whereas severely tethered scars may be released with Nokor needle.
Cutting subcutaneous scar tissue immediately raises the bottom of the scars.
After subcision, the skin is compressed and cooled to reduce potential bruising.
What are the realistic results of subcision?
When performed correctly, results of subcision show gradually as a permanent and significant improvement of tethered scars. It may be advised to repeat subcision, as each procedure induces even more collagen and skin remodelling. Some of our patients return every two years (!) for subcision, as their skin heals very slowly and scars continue to improve after one year.
Some scars are not only depressed due to tethers, but also due to atrophy (loss of collagen, fat and volume). In these cases, subcision may be combined with a filler injected under each scar.
We use different brands of fillers (Restylane, Belotero, Juvederm etc). Hyaluronic acid fillers (HA) are injected under each scar individually immediately after subcision. The filler works as a buffer to prevent reformation of scar bands. This technique is called "subcision filling" and may be repeated efter 3 months or longer.
The filler lifts the scar and long term results are good, even after the HA filler is slowly absorbed by your skin enzymes. Another option used for subdermal treatment of widespread scarring or deep atrophy or agerelated fat loss is overdilute Sculptra, which is a more permanent filler that lasts up to 5 years – or even longer. Sculptra is made of Poly-L-Lactic Acid and it induces formation of new collagen. 
Sculptra itself will not raise the scars significantly, but over 3-6 months the effect will be visible as collagen forms under the scars. Sculptra could be used as the foundation with early subcision followed by HA fillers with latter subcision for individual scars.
Can more treatments be combined for acne scars in the same session?
As part of an individual acne scar revision program, subcision can be combined with fractional and resurfacing laser treatments, RF microneedling, TCA cross, chemical peels, etc.
Different treatments may be performed at the same day. Dr. Emil Henningsen treats each scar type with a specific treatment method.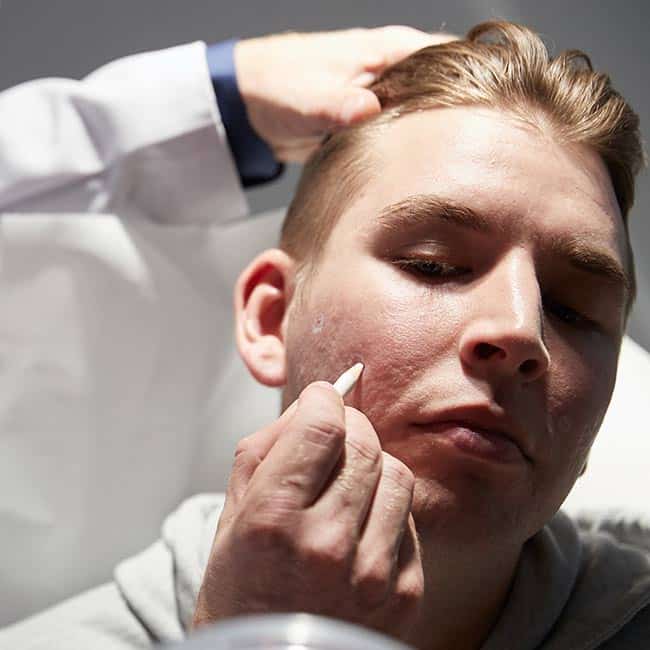 Pricing of treatment with subcision & filler
Subcision and 1 mL HA filler of the cheeks – DKK 5.000 / Euro 675
Subcision and 1 mL HA filler of the cheeks and upper face – DKK 6.000 / Euro 800
Extra fee for 1 vial Sculptra – DKK 1.000 / Euro 135
Extra fee for sedation – DKK 1.000 / Euro 135
FAQ about treatment with subcision & filling
Do you have questions or want to book an appointment?
We are looking forward hearing from you