Wellknown and well-respected worldwide
Dr. Emil Henningsen is wellknown and well-respected worldwide for his professional and effective acne scar treatments.
He offers skin treatments that combine high-end lasers and energy devices with manual procedures like subcision, chemical peels / CROSS, hyaluronic acid fillers, collagen-stimulating filler, lipoinjection, punch excision, skin surgery and more.
His long and broad experience with cosmetic and medical skin treatments, his caring nature and high ethics are some of the reasons that many international clients travel in to see him at Cutis Clinic.
Dr. Emil Henningsen is a luminary in the field of laser and energy device treatments.
In 2014-15, he works under his British NHS registration with Prof. Chu at the West London Dermatology Centre. He is introduced to manual procedures in acne scar revision like subcision and TCA cross. Gradually, he developes his own treatment techniques and builds up an international network of reputable colleagues.  
In 2017, he ends his hospital career at the Department of Dermatology at Odense University Hospital to focus on what he is passionate about: Highly specialized treatments of acne scars with a focus on laser treatments and manual procedures. 
In 2019, he establishes Cutis Clinic in Odense, Denmark. The location is convenient as he lives close to the clinic in a friendly neighbourhood with his wife and three children. In the summer, he often rides his bicycle or motorcycle to Cutis Clinic, which is located only a mile from his home. 
Cutis Clinic in Odense has quickly expanded and now covers three floors forming a modern private hospital offering plastic surgery, dermatology, cosmetic treatments, and skin therapy. Recently, more Cutis Clinics have opened in Denmark.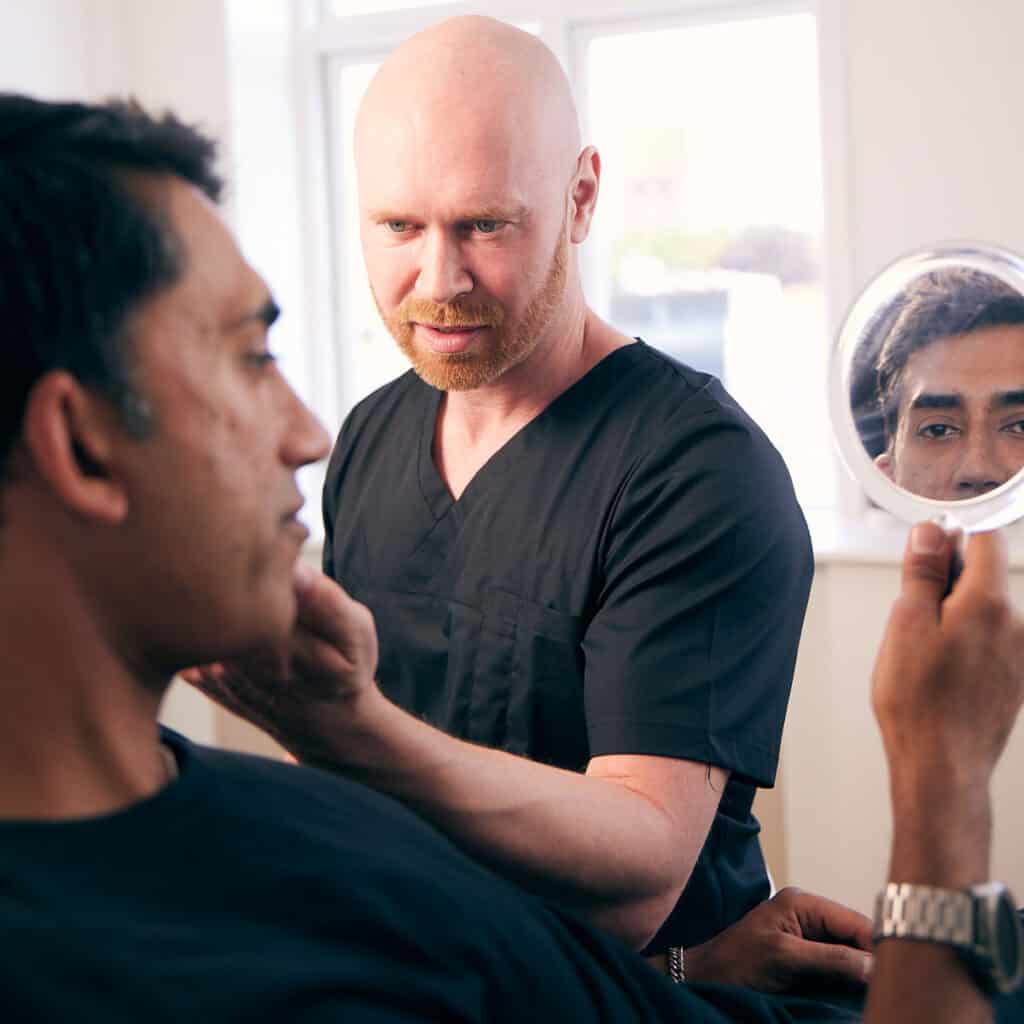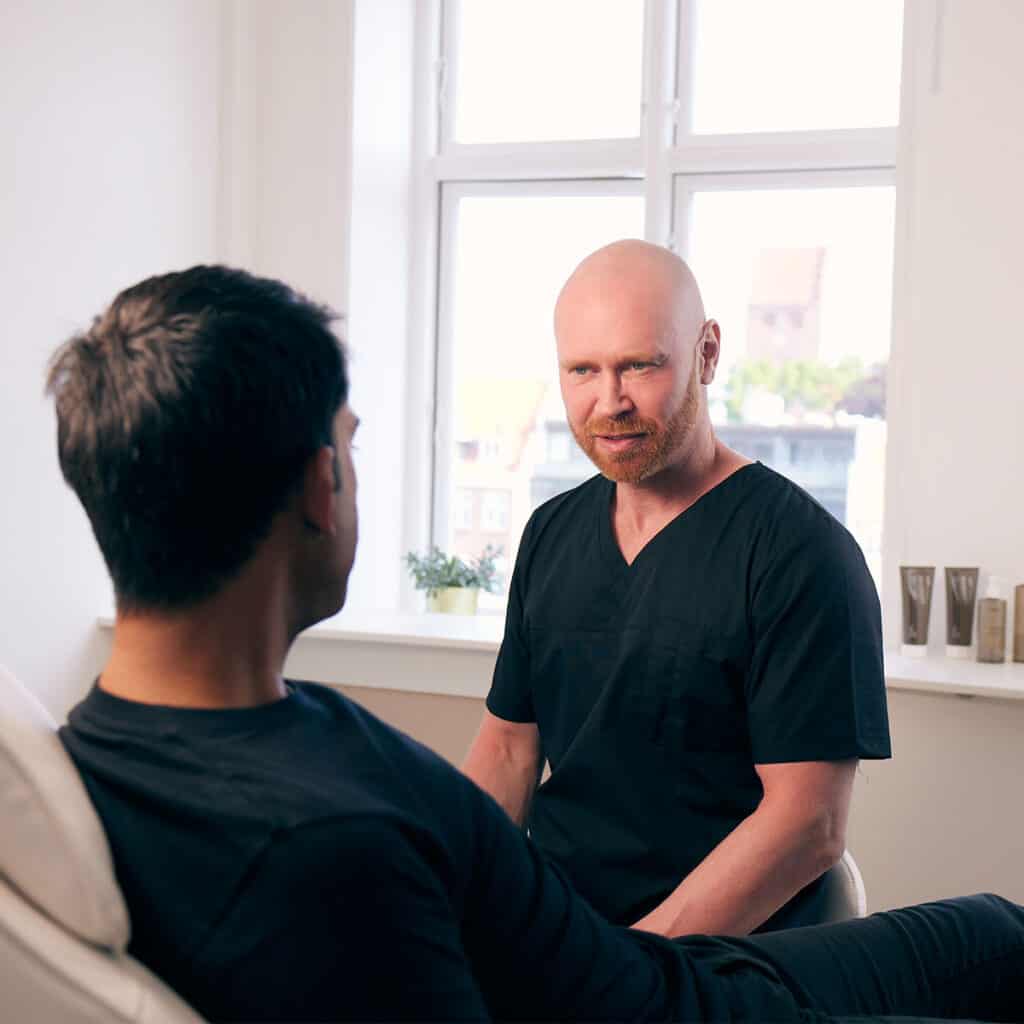 Initial consultation with Dr. Emil Henningsen​
We will reserve twenty minutes for your initial consultation with Dr. Emil Henningsen. 
The initial consultation fee is DKK 500,- . We accept Visa/Mastercard, China UnionPay, Diners and JCB (OBS We don't accept the currency EURO as payment).
At the consultation, Dr. Emil Henningsen will do a complete and thorough examination of your skin in different lighting.
You will have the opportunity to discuss treatment options, expected outcome, downtime, potential side-effects etc. 
Treatments may be done on the same day as the initial consultation, or you may return for treatment at a later occasion. 
Most patients require a series of treatments for better outcome. 
In general, we recommend minimum three months intervals between treatments with energy devices (eg. Genius RF micro-needling, CO2 laser, Erbium laser, etc) as skin healing (neo-collagenisis and dermal remodelling) takes a long time. 
Please be aware that Dr. Emil Henningsen is fully booked in certain periods and there may be some waiting time. It is wise to book a few months in advance.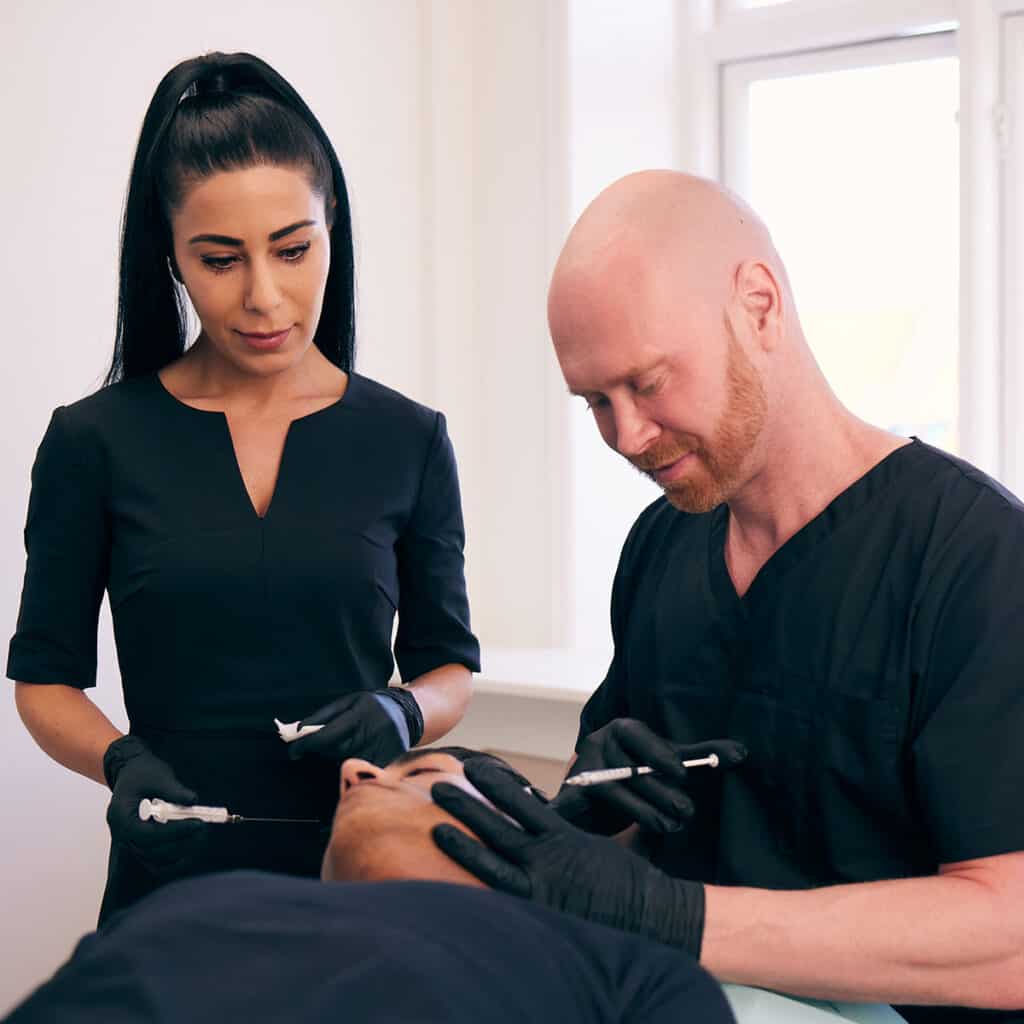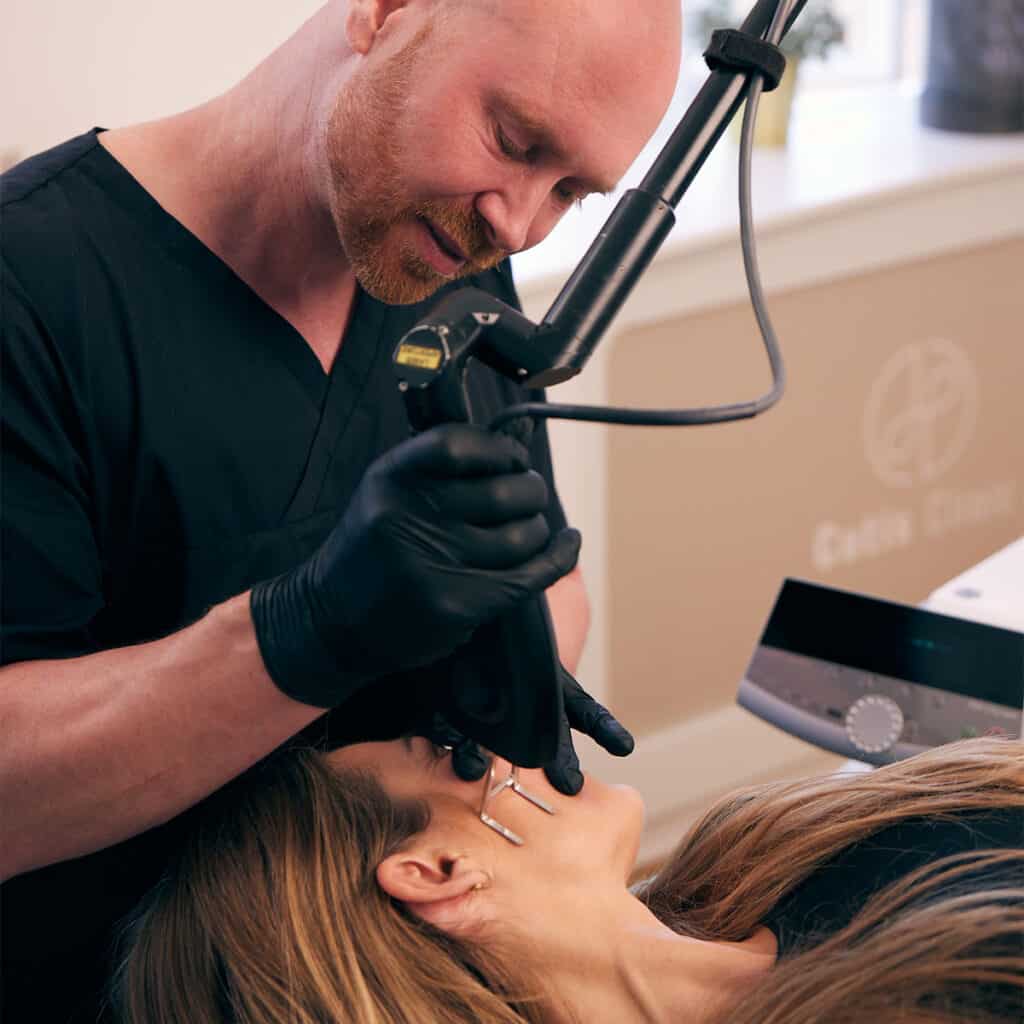 The key to success lie in tailormade scar revision​
Most patients look for lasers, because lasers are found everywhere online. However, lasers and energy devices may not be the best treatment option for everyone.
Most acne scar patients will have multiple scar types, and scar morphology will change over time with a treatment course.
Hence, the best treatment is a multi-method treatment suited to your type of scars. We will discuss treatment options based on your skin condition, skin type, time frame, downtime, budget, etc.
Common acne scar treatments that we recommend & our clients require​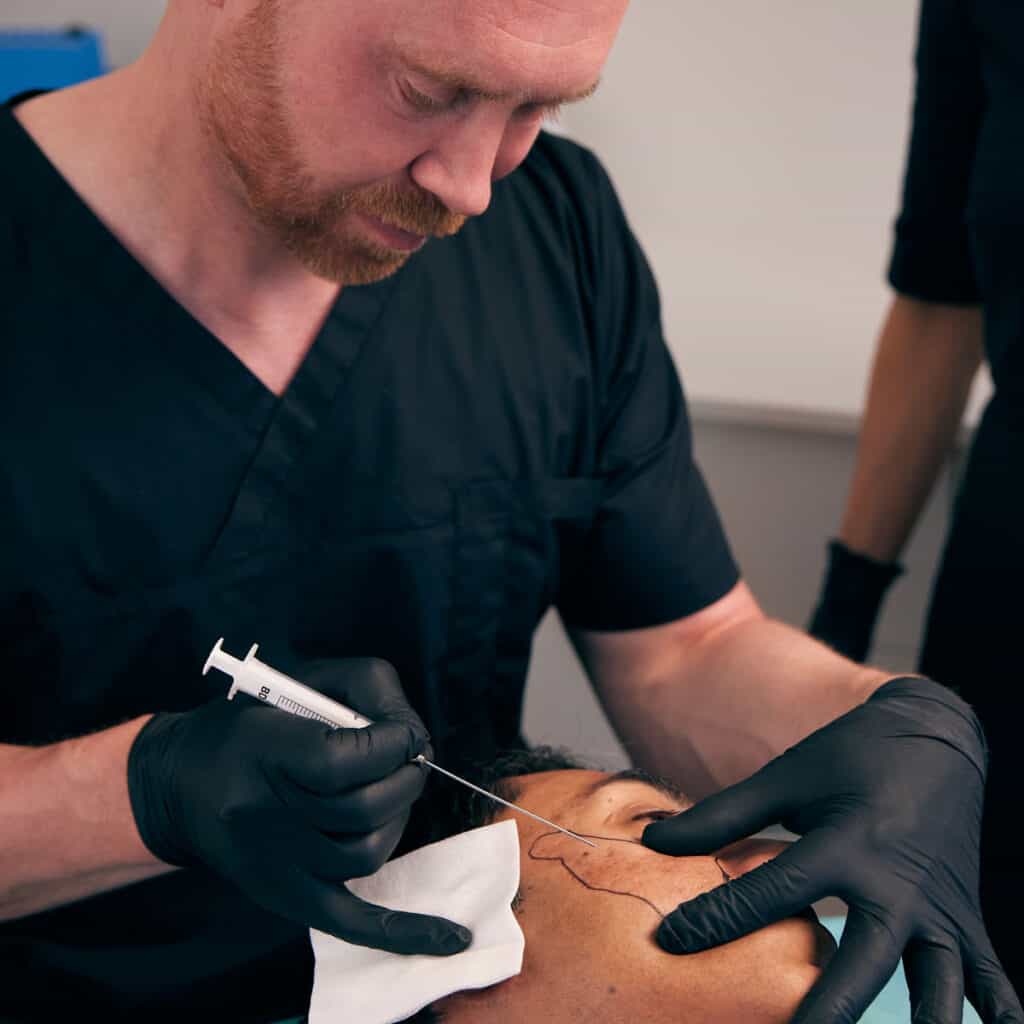 Surgical procedure.
Local anesthesia (tumescent).
For tethered scars / rolling scars.
Downtime:
Swelling 2-4 days.
Travel home on the same day.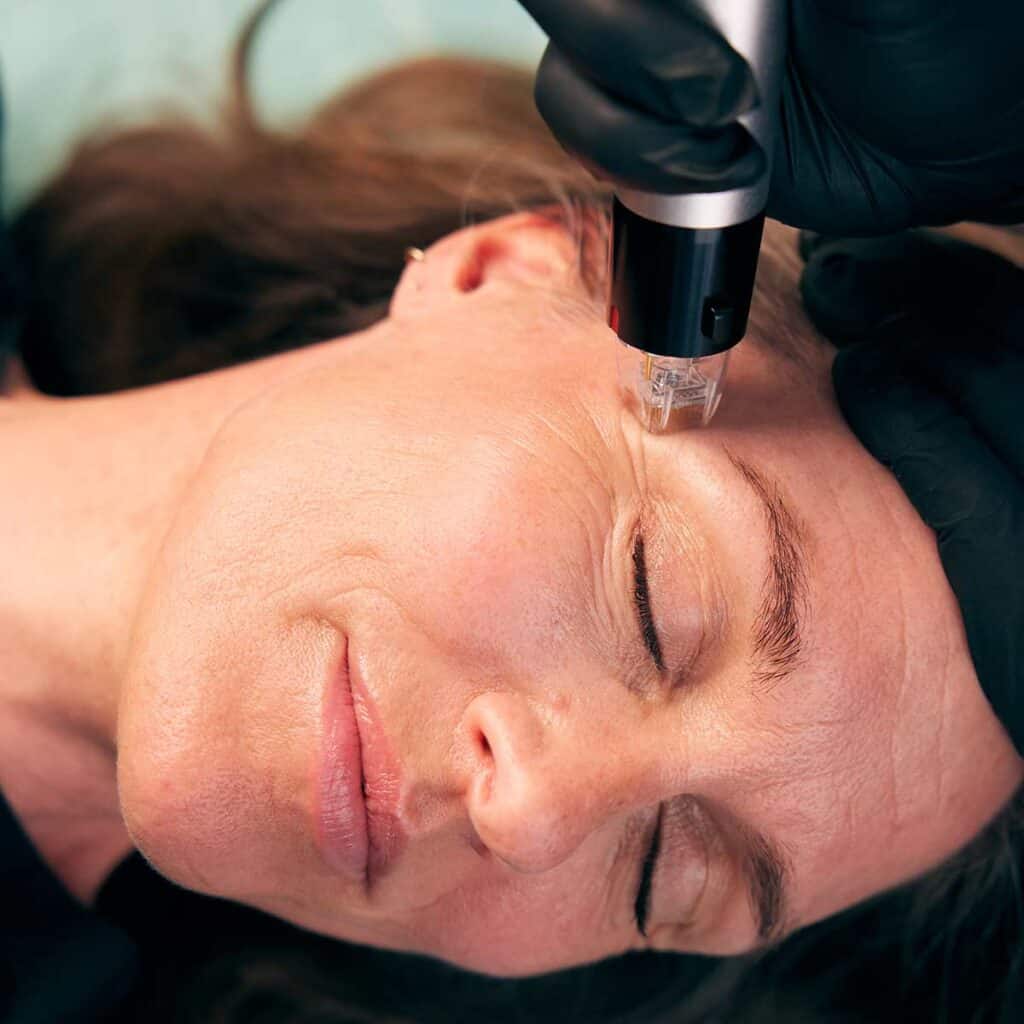 Local anesthesia (topical and/or nerve block).
For textural scars.
Often combined with subcision.
Travel home on the same day (Genius and PicoPlus) or next day (fractional CO2 / Erbium).
Downtime:
Genius: Swelling 4 days, grid up to 8 weeks.
Fractional CO2 / Erbium: Swelling and oozing 5-6 days, redness up to 6 weeks. 
PicoPlus: Swelling 1-2 days.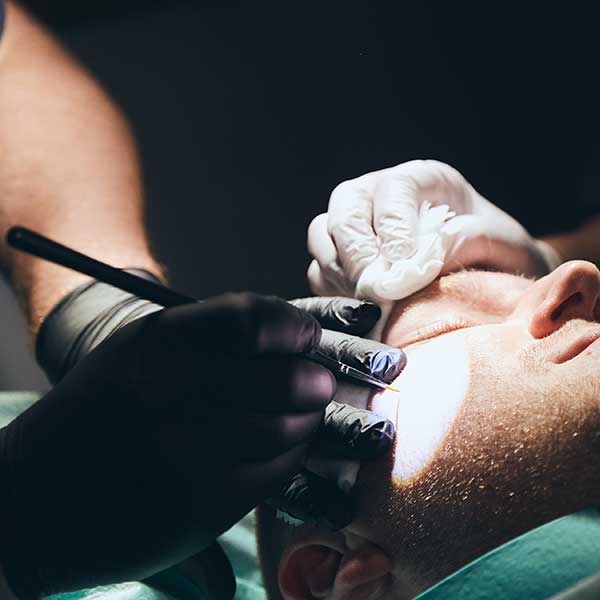 No anesthesia.
For boxcars, linear scars, enlarged pores, icepeak scars.
Often combined with energy device or subcision.
Downtime:
Swelling 1 day, scab 1 week, redness 4-6 weeks.
Travel home on the same day.
Price list of acne scar treatments
We offer tailormade acne scar packages with discounts.
Where is Cutis Clinic Copenhagen located?
Our clinic in Copenhagen is located at Østerbro in Copenhagen Ø. We are in the same building as Elite Scandinavia. 
Adress and contact
Cutis Clinic Copenhagen
Classensgade 34
2100 Copenhagen Ø
Denmark
Tel: +45 7020 7066
Mail: info@cutisclinic.dk
Where is Cutis Clinic Odense located?
Our clinic is centrally located in Odense only a short walk from Odense Central Station.
Most facilities are close to our clinic. You will find the clinic at the corner of a block of old buildings right between the two old main churches in the town centre.
Adress and contact
Cutis Clinic Odense
Albani Torv 5
5000 Odense C
Denmark
Tel: +45 7020 7066
Mail: info@cutisclinic.dk
FAQ - Acne scar treatment in Denmark
Dr. Henningsen is available for appointments in Cutis Clinic Odense and Copenhagen.
If in doubt, please call the clinic at +45 7020 7066 on weekdays between 8:30-11:00 am or 2:00 -4:00 pm. 
Contact us by mail or  call the clinic at +45 7020 7066 on weekdays between 08:30 – 12:00 am or 12:30 – 04:00 pm.